2022 Designs, templates, images for Memorial Day, Independence Day and Veterans Day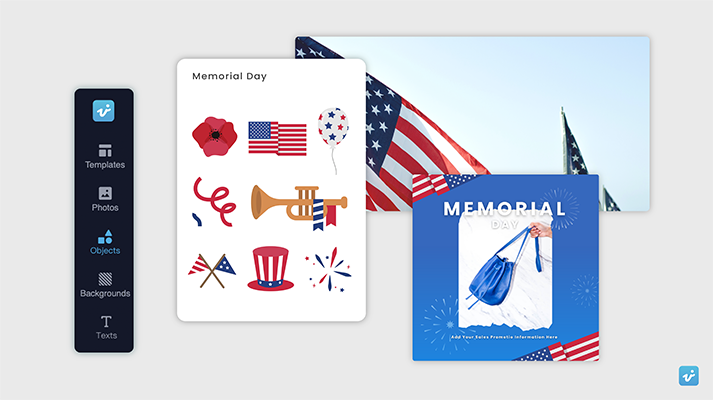 Americans have great respect for military family and friends. Most of these patriotic holidays, such as Memorial Day, Independence Day and Veteran's Day, are accompanied by holidays, events, and celebrations in thanks for allowing us to set foot in the land of freedom. Here we want to share some designs and materials to light up these holidays.

Memorial Day, Independence Day and Veteran's Day are closely related to American history and patriotism, so they usually focus on the colors of the flag – white, red and blue. If you want a little more variation in the design and don't want such a strong style, we also provide matte or light of the three colors for your reference.

Different from the free pic galleries, we had Vivipic designers to hand-paint several lovely graphics for the patriotic holidays. Consistently adopt the national flag and its colors, we made accessories that might appear on Uncle Sam into cute little stuffs, like hats, balloons and trumpets. Fireworks are also the highlight of every family on July 4th.

In addition to materials, images that can be used as backgrounds and design elements can also be found in the Photo section of Vivipic's editor. Just search for the keyword "memorial day".

What? You said it's a hassle to do it yourself. Well, WE HEARD YOU!
To allow everyone to find his/her ideal templates on the Vivipic's editor, we have introduced several styles for different occasions. If you are looking for vitality and neatness, you may like the American sailor style presented by the following two templates, which bring a more fortitude feel with straight lines and simple fonts.
However, if you're hosting a family or friend event or making an announcement about closures, such as Memorial Day office closed sign, the soft cute style presented by the following two templates can be a great choice.
Related Posts