Brand design starts from visual. Creating a consistent identification for the brand is the key to letting customers know who you are. Logo, colors and fonts are the three key elements that directly differentiate you from your competitors.
Creative and distinctive visual identity gives a good first impression to the audience. A brand identity that echoes with the product or service could convey the idea better to the customers.
New feature of Vivipic's PRO plan – BRANDKIT, a branding tool that helps simplify brand identity design process, maintain visual consistency and present a unified style.
When people pay attention to the brand, they focus on the LOGO first instead of brand story.
After targeting your audience, utilize the collocation of words and letters to form your logo and bring out the feature of your brand.
The format of logo can be divided into graphic and text. Graphic logos, such as adidas, contain the meanings of challenges, achievements and consistency. Text logos, for example, Amazon and Google bring out the brand characteristics with letters and colors.
In Vivipic's editor, you can use BRANDKIT to upload your logo:
Click on the left column. Select "Brands".
Upload your logo. JPG, PNG and SVG formats are supported.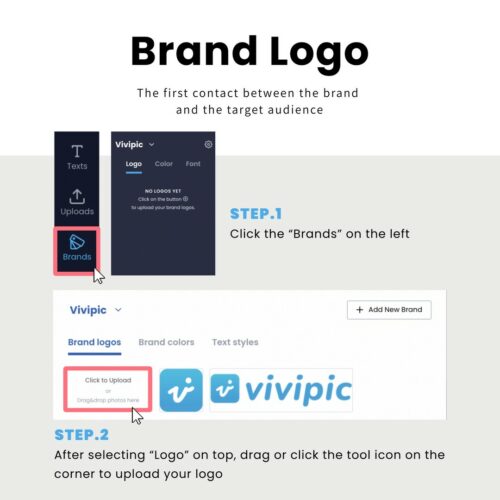 Brand color plays a pivotal role in the overall vision, and is the focus of brand positioning and style creation. There is a "7-second theory" in color marketing. Colors account for 67% of motivation and a customer only needs 7 seconds to decide whether he/she wants to buy or not. That's why Tiffany has a unique blue and Hermès has a textured orange. Catering products mostly use red and yellow, such as McDonald's. Simple and neat, such as Chanel and Nike, using black and white as their main tone.
Add a palette in BRANDKIT to align the colors in your design:
Select "Color" in the toolkit.
Click "+" or use the dropper to draw your desired color.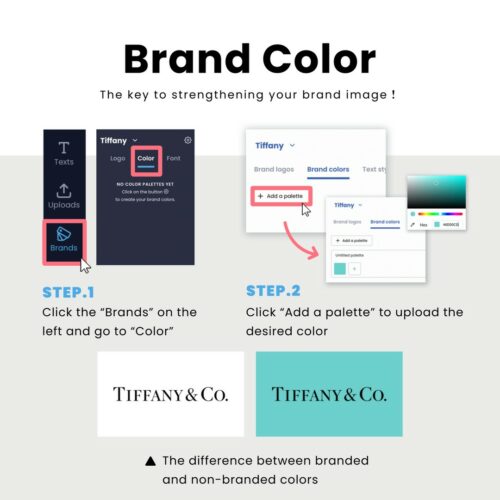 Fonts are also the key to make customers buy-in your brand design. Well-designed fonts could determine the style of brand, which is why fonts are often be described as the DNA of the brand.
Click font styles in BRANDKIT to pick an outstanding font for your images:
Select "font" in the toolkit and pick a size from heading(60px), subtitles(34x) and body(24px).
Upload your existing font or choose from Vivipic's library.
Enjoy playing with Vivipic's BRANDKIT! We hope the tool could help standardize your brand design, streamline your design process, reduce design costs for marketing, and most important of all, produce visuals with both texture and efficiency.
Go to https://vivipic.com/ or  Contact: service@vivipic.com