AI art products are prevailing , as are graphics and design generator software. In the previous article, we introduced the application of Midjourney, this one is to talk about DALL·E 2. The first generation of DALL·E is a model developed on the vision system CLIP launched by OpenAI last year. Evolved from the first generation, DALL·E 2 has three new functions: editing, high resolution and variation.
Before we start, enjoy some WOW works made with DALL·E 2...
Advanced editing makes pictures more in line
DALL·E 2 can make realistic edits to existing images from a natural language caption. It can add, remove or substitute elements while taking shadows, reflections, and textures into account, even merge two existing pictures.
Freely add elements to the image
The following is an example published on the official website. You can see that a flamingo is added to the left of the image. Simply change the text description to modify the position of the flamingo.
Remove elements and add new ones with text 
We also played with DALL·E 2 ourselves. We took a picture from the Unsplash gallery, smeared to remove the stone in the picture, and entered the text: "An elephant facing camera". Voilà! Here you go a frontal elephant, and in harmony with the style of the original image.
Effortlessly merge two photos to one nice image
In terms of combining photos, we tried mixing a hot air balloon sky photo with a sunset mountain view. We used a free image processing tool to joint the two pictures together in a canvas, erased the unnecessary parts in the middle and saved it in png format. Then we uploaded it to DALL·E 2, entered text: "balloons flying in the sky, sunset" It turned out to be a harmonious and beautiful picture!

High resolution, variation and other special features
The resolution has been increased from the original 256 x 256 pixels of the first generation to 1,024 x 1,024 pixels, greatly improving the texture and practicality of the overall image application.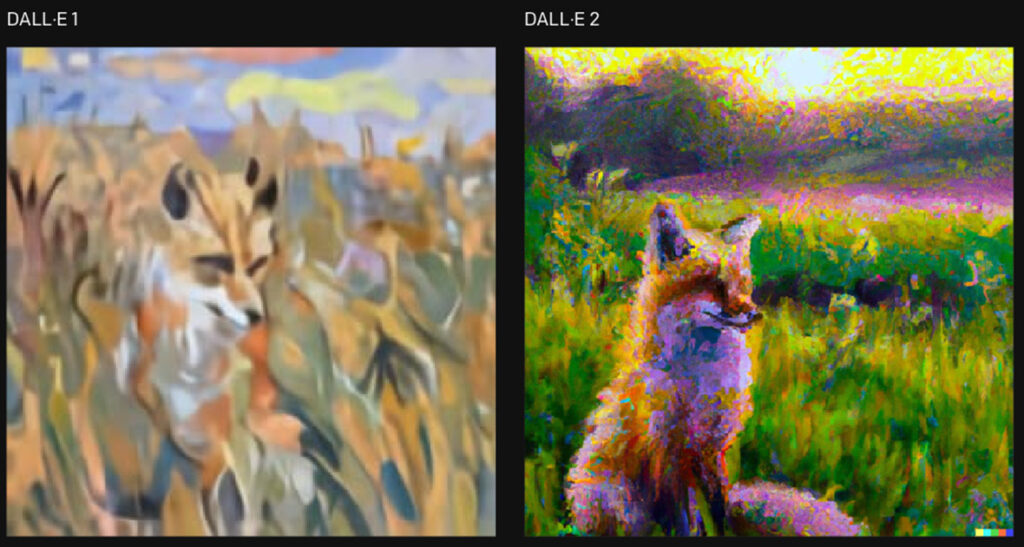 In addition, DALL·E 2 can reproduce a Variation with a similar style to the original image based on the pictures provided by the user. It will provide multiple versions of results for users to choose from. Each version is slightly different, but the overall style and characteristics are still the same.
Furthermore, DALL·E 2 has been cleaned up to remove the most explicit content. The team has developed techniques to prevent the photorealistic generation of real people, including public figures, with content filter and automated/human monitoring system.
Questions you might have...
How to access DALL·E 2 's beta?
(1) Go to https://openai.com/dall-e-2/. Click on "Join waitlist" below the site description.
(2) Once you pass the application, the invitation code will be emailed to you. However, it is still uncertain how long it will take to review an application. So make sure you fill out the information as completely as you can. 
What does it take to enjoy DALL·E 2 's service?
You will get 50 free credits in the first month and 15 free one will be refill every month after that.
If that is not enough, you can buy DALL·E credits by using the "Buy Credits" button in your account page, or in the profile photo dropdown menu. Free credits expire one month after they were granted, and paid credits expire 12 months from the date of purchase.
** Please note: this post is a review from Vivipic and registration for Vivipic doesn't mean you can access DALL·E 2. You can only access DALL·E 2's beta by following the steps mentioned above. 
A Collection of Materials created with DALL·E 2
"An astronaut riding a horse in a photorealistic style"
"A cat shopping on the Fifth Avenue drawing"
"Monalisa in a flower dress"
Remove the person in The Scream and enter text "shiba"
Merge apples and lemons with text "A photo of apples and lemons flying in a blue background"
We've tested DALL·E 2 with dozens of prompt ideas. It has made a great progress but the whole AI technique still has a long way to go to generate graphics and vectors precisely, so we will wait and see. On the other hand, Vivipic is a free online design editor with variety of templates and design elements frequently updated. Visit our Template Center to learn more>>